Indie: Youths' Expression Of Their Generation (January, 2007)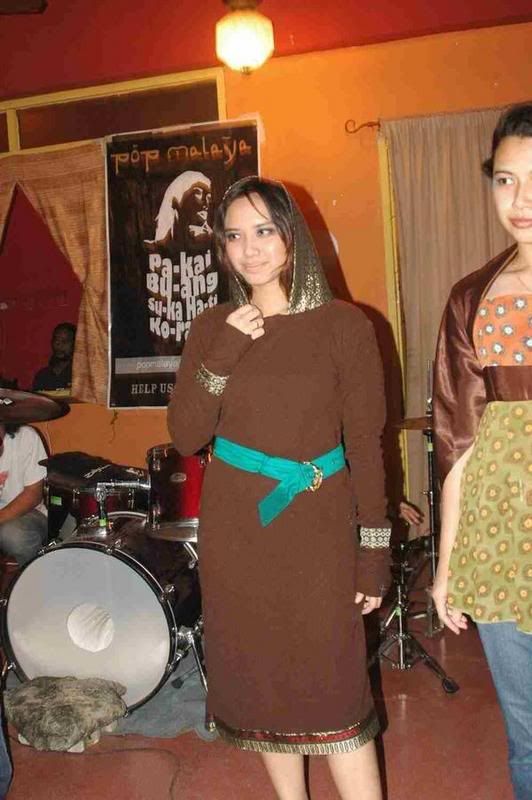 STYLISH… A model wearing contemporary dress with songket detail from Pop Rina collection at "Power Jiwa: The Unglamorous Fashion & Roll Show". Indie fashion is now in demand among the youngsters. Pix: Soraya Jamal
By Soraya Jamal
KUALA LUMPUR, Jan 17 (Bernama) -- A group of youths in their 20's were clad in T-shirts with provocative slogans and designs. A sweet-looking girl strutted in a 60's-inspired dress with songket motifs while her friend was in an outfit heavily influenced by Japanese pop culture.
At a glance, those who attended the "Power Jiwa: The Unglamorous Fashion & Roll Show", a music and fashion extravaganza, were not much different from the youths loitering around shopping complexes.
But there was more to it when one observed the backgrounds of the crowd who were mostly students from prestigious universities and also professionals such as lawyers, lecturers, doctors, graphic designers and even civil servants.
What brought them together that evening were the apparel with the 'indie' labels on show.
But what exactly is 'indie' label?
INDIE LABEL
The term 'indie' has its roots in the word, independent. Historically, 'indie' denotes records released under independent labels, in another words, independent musicians and bands that aren't signed to big record companies.
Now, the same thing is happening in the fashion world. Product-wise, indie labels don't differ much from commercial labels in the market but what sets them apart is the philosophy which emphasises individuality, self-expression and most importantly, exclusivity.
It is not something new especially in countries like Japan, United States, the United Kingdom, Singapore, Indonesia and Thailand.
As emphasised by Power Jiwa organiser, Azizul Abdul Latif, 30, "mass production is a big no-no for this group".
"The essence of the indie label is that every product is produced solely according to the designer's idea and creativity. If it's made for the mass market, it's no longer considered indie label," said Azizul, who represents Pop Malaya, an indie label collective.
In short, everything about the indie label, from the idea, concept, product to business plan, is developed organically without interference from corporate or profit-centric entities.
"In terms of quality, it may not be on par with the commercial brands because the indie label is not produced systematically in factories. We go to printing services for T-shirts and button badges, while for shirts, pants, skirts, dresses, bags and the rest, either we sew them ourselves or send them to the tailors," he explained.
As for Stephan Poon, in his 30's, who heads the Amorfixx Republic label, going independent means producing brands that are not and do not want to be commercially popular.
"It is not an easy thing to achieve," he said.
"No matter how good your label is, making it big in the industry is almost impossible and that is why there is a big group of independent labels that work together for mutual benefit.
"Regardless of race and ideology, you can see how they stay independent, yet still help each other," said Poon.
LOCAL SCENE
There are no official figures available on how many indie labels exist in Malaysia currently after being in the scene here since two years ago.
In the Klang Valley, besides Pop Malaya and Amorfixx, there are more than 20 active labels such as Spunkz, Defy, Scorn, Black Fryday, Junnu, Lestat, Good for Health and CrazeeCause, each with its distinctive ideas.
The design influences are anything from sub-culture, street wear, music, extreme sports, graphics, art and literature, to strong anti-Zionism slogans which can often be seen on T-shirts.
They sell their products at the flea markets, art markets, music events and selected stockists and stores. Indie labels rarely come under companies or own stores and the most effective promotion method is through word of mouth.
Internet services such as MySpace.com and blogs are great promotional tools for these independent brands to directly reach their customers.
WHY FANCY INDIE LABEL?
For Azizul, interest and self-satisfacton are the main reasons for his involvement in producing such a fashion line.
"Society has mistaken us as rebellious and it's certainly a wrong perception," he lamented.
Most indie label designers and initiators choose to be independent because they do not want any hindrance or interference, especially in the creative content.
"For example, many of the designs under the Pop Malaya label use Arabic calligraphy incorporated with Pop Art. It's hardly acceptable for the commercial market but since we're an indie label, no one raises any question," he said.
Poon is of the view that society's perception of them is something trivial because the reality is, an indie label will only appeal to its audience and crowd.
"The most important thing in the indie label is the message that you want to disseminate, to assure and educate your target group.
"It doesn't matter how they interpret, the most important thing is what they interpret," Poon said.
POP MALAYA
The idea to develop Pop Malaya came about two years ago. During that time, a lot of Ipoh kids were really into 'bundle' clothing from Japan where despite their unique designs and high quality, they were still affordable.
"Their designs were simple. They also copied ideas from the west but how come they became so popular? From there, we got the idea to start a similar apparel line but with a local twist," Azizul said.
The name Pop Malaya was inspired by a popular Malay film in the 80's entitled "Kembara Seniman Jalanan" and to it was added a street smart motto "Pakai, Buang, Suka Hati Korang" (Use, Discard, As You Like).
"Establishing the name and products as well as strengthening the ideas and concepts are more important than reaping profits," said Azizul, who is a procurement officer with an established shipping company during the day.
Besides Azizul, who is responsible for branding, Pop Malaya is complemented by Ijam who handles the design and concept aspects, and Jijie and Adam as designers.
Pop Malaya has a sister brand, Pop Rina, an indie label catered specially for the ladies. Pop Rina's latest collection incorporates traditional fabrics like songket and batik and can be previewed at www.myspace.com/popmalaya.
Amorfixx was started by Poon who was teaching the art to Fatso B, Yang, Horng and Han.
Realising the exceptional talent of the three lads in their 20's, Poon formed Amorfixx collective seven months ago.
He is actually more of a mentor who generates the concept and provides guidance to the collective while the business and artistic aspects are handled by the rest.
With RM5,000 as initial capital, Amorfixx records almost RM1,000 revenue per month from its only outlet in Jonker Walk, Melaka. They are now looking at expanding their market.
Competitively priced from RM29.90 to RM69.90, Amorfixx products can be purchased online at www.amorfixx.com.
CHALLENGES
There will be challenges in every effort, and the indie labels are not spared.
Ironically, competition from established and popular labels is not one of them since both have their own own market segments and followers.
"The main challenge is funding. Indie label entrepreneurs fork out their own capital that is often limited. Dividing time between a day job and the indie fashion venture is also quite demanding," Azizul said.
"The business is also very risky, as there is no guarantee that your products will be accepted, especially with the mentality of and lack of appreciation from society at large."
But it's different in Indonesia. Citing an indie label in Bandung, Azizul said: "The people there appreciate local art products, but it's different here in Malaysia where most people are still reluctant to pay for artworks.
"In Bandung, the manufacturing facilities are vast since a lot of international brands have production units there and the local indie labels can exploit the opportunities available."
He said a lot of Bandung's indie labels generated hefty profits even though there were no less than 200 indie labels there.
"We need at least seven to eight years to achieve that level. The indie label is still relatively new in Malaysia," he noted, adding that it was any indie label entrepreneur's dream to make the venture a full-time career and main income earner.
For Amorfixx, getting people to spend on the indie fashion labels is another issue besides educating them to appreciate these labels.
The future and prospects of an indie label depends on its community although the potential is huge.
"We believe that if it's done sincerely, it will be great. There definitely will be a pot of gold at the end of the rainbow," said Poon, brimming with confidence.
Whatever their reason and desire, be it creativity, individuality or self-expression, young people like Azizul and Poon are manifesting the spirit, courage and exuberance of their generation.
Their efforts should not be perceived as rebellious just because they choose to be different, as they set out to fulfil their dream in the ever-changing, exciting fashion world.
-- BERNAMA